Hedonism II On-Resort Activities
Hedonism II offers a variety of on resort activities, and most are free of charge. This section also includes water sports activities where you technically leave the resort (by boat). This page is divided into three sections: Water Sports; Spa; and Other.
---
Water Sports Activities
For most of these activities you need to sign up at the Dive Shack in the central area of Hedo 2's beach.
---
Glass Bottom Boat
Everyday (9:30 AM & 3:00 PM)
---
Sailing Lessons
Office Opens 9:30 AM - 5:00 PM
Times 10:30 AM 11:30 AM 1:30 PM 2:30 PM
---
Scuba Lessons
Sundays, Tuesdays, and Fridays in the main pool at 8:00 AM
---
Scuba Diving
You must be certified (both PADI and SSI are accepted) to scuba dive at the resort. The resort provides all necessary equipment but you are allowed to bring your own. Both dives are drift dives and are lead by experienced dive masters. You must sign up the day before a dive in most cases.
9:30 AM - 90 foot dive.
11:30 AM - 60 foot dive.
---
Snorkeling
Everyday (11:30 AM & 2:00 PM)
---
Wind Surfing
(3 lessons) 10:30 AM 12:30 PM 2:30 PM
---
Water Skiing
Advanced Lessons Everyday (9:30 AM - 12:00 PM & 2:00 PM - 4:00 PM)
---
Spa Activites
The Spa is located just off the main dining hall past the entrance to the fitness room. Most of the spa activities cost extra.
---
Steam Room, Sauna, Jacuzzi
---
Facials (at additional cost)
Oxygen Facial - This is an ideal therapy on your first day.
Fountain of Youth Facial - Rid yourself of those hard to go stress lines.
Aromatherapy Facial - Indulge yourself to an extensive secution of therapy that gives one a blissful experience.
Detoxifying Package - Imagine being on a 55 minute trip to another word. Be detoxified in a seaweed wrap, steamed or massaged, scrubbed, and then pampered with a scalp treatment.
Champagne and Caviar Facial - The ultimate in face treatments.
Purifying Facial
Cucumber Refresher Facial
Gentleman's Facial
Back Cleansing Treatment
---
Holistic Therapies (at additional cost)
Swedish Massage
Aromatherapy Massage
Sports Massage
Deep Tissue Therapeutic Massage
Spa Shiatsu Massage
La' Stone
Indian Head Massage
Chi Yang
Spa Reflexology
Reiki
Energy Enhance "incorporating Feng Shui"
Couples Massage
---
Body Scrubs (at additional cost)
Sugar Cane Suprise
Caribbean Peppermint Scrub
Seaweed Body Polish
Tropical Body Polish
---
Body Treatment (at additional cost)
Island in the Sun Aloe Wrap
Parafango Wrap
Milk & Honey Treatment with Exfoliation
Aroma-Algae Cellulite Treatment
Seaweed Body Treatment with Exfoliation
---
Make Up (at additional cost)
---
Body Waxing (at additional cost)
Full Leg, Half Leg, Bikini, Under Arm, Eye Brow, Chin
---
Manicures & Pedicures (at additional cost)
Hand Treatment
Nail Extensions
Paraffin Treatment
---
Hair Care (at additional cost)
Bridal Styling, Cut, Shampoo & Set, Shampoo & Blow, Scalp treatment, Hair Relaxing
Braiding - Full Head, Head, Single, French
---
Wet Room (at additional cost)
Hydrotherapy/Thalassotherapy Delights
Aromatherapy Bathing - Bliss Experience
Deep Detoxifying Seaweed Bath
Mineral Salt Bath
Vichy Shower
---
Other Activities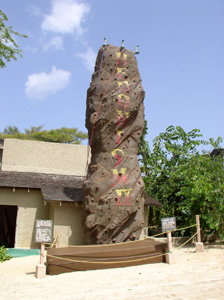 Hedonism II offers a variety of organized and unorganized activities at various times throughout the day. These include rock climbing, trapeze lessons, body painting, water slide, volley ball (prude and nude), naked twister, tennis lessons, mini golf, bicycle tours, aquacise, shuffleboard, juggling clinics, trampoline clinics, yoga, aerobics, nightly shows/entertainment, and lunchtime shows/entertainment. Many of these are run by Entertainment Coordinators, or ECs, that you'll surely meet when you visit. You'll recognize them by their red Hedonism II shirts and their boundless energy.